Happy Beltane!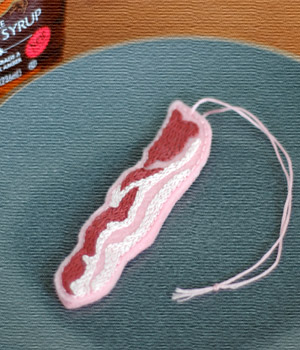 The new Beltane issue of the Anticraft is up, and it is all about bacon! I found it hard to take though, as the mere thought of bacon brings on pancreatitis pains as I can't even tolerate the smell of it. A shame, because if it didn't do me harm, I would love it. However, I do feel pigs are a bit intelligent, so would probably want to save their bacon rather than eat it. Only two of the baconist projects were textiles, the above was felted and used for hate spells (tongue in cheek of course....haha). The other is this knitted scarf, a clever piece of bacony Fair Isle stranded two colour knitting, but also double knitted so front and back are knitted at the same time.

I am surprised though, that this vegan bacon scarf is the only antithesis of the 'bacon' theme for this issue.

I have a feeling that knitters will moan about lack of bacony projects for them, and the crochet people have nothing at all. Well, yeah, if that is the case you know the themes in advance....so come up with something yourselves!

I am secretly working on some Samhain issue projects, well not that secretly but the actual details will be. I must get the skates on, not long before they are due in eek!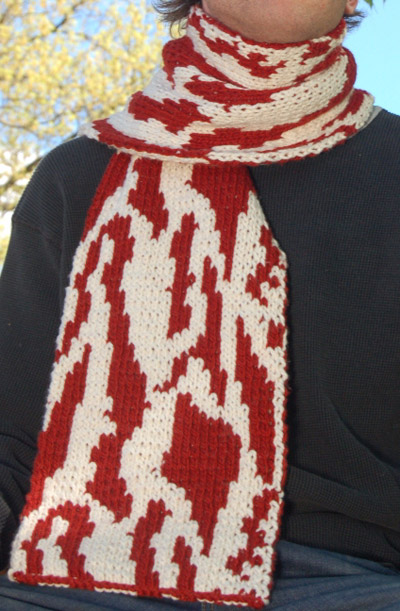 I don't have any new patterns for you, however I thought it might be good to dig out the old faithful
A Maiden's Glory pattern. Thanks to Ravelry it is possible for me to know that there are 11 projects finished, and the project is in 123 queues and 138 people have marked it as a favourite.The
Beltane Flame hat has also been made as other people have made fresh versions of these Sabbat projects.



I like Meadosweet's
pink flowers for

A Maiden's Glory

,
this could be more in keeping with those who live in sub-tropical climates. The Stitchbug's blue flowers look cool too.
However, my overall fave version of this has to be Shropshire Pagan's circlet she made for a real hand-fasting (Pagan wedding)



A few people have made the Beltane Flame into bags for their Pagan bits and pieces, and I especially like this orange muted version by the Duchess as well as the strong reds and blacks by Aurorabee.
Someone made a version of the Beltane Flame in greys and renamed it Beltane Ashes, I liked that touch. I couldn't find a pic of that, although I have found this version 'Charred'