Innovative Knitting
There has been some interesting discussions with regard to innovation within knitting technique on one of the publishing forums and I thought I would document some of my thoughts here. Dotted around, are some photos of the more bizarre side of the craft just to break up the tex
t.
I am self taught, and have some odd little
practices and techniques that have arisen out of wanting a particular shape or
stitch pattern.. When I want to create things, especially 3D type of stuff in
crochet, I will look at my sketch, or a real life object and I
will somehow do what is necessary to create the thing I want and it might not be
a conventional way of doing it or something that has been done
before.
However, a lot of these things have not had a public airing. When they have,
either a publication has edited my technique to enter a standard and well know
way of getting something similar
or it has been published, but I have had plenty of queries asking
for more explanation of how to do that e.g. doing Intarsia in the round, which
is not technically possible but I have achieved some in a most peculiar way!


I am not saying so much I am totally original and innovative in the way a
finished piece looks, but my ways and means of getting there may have been
invented for me to achieve it. I am still in the process of experimenting to try
and come up with stitches and lace patterns no-one else has ever done, but in
the main even if I invent these things for myself, I will find some
old article
of ancient stitch libraries and found someone had perhaps come up with the same
stitch a couple of hundred years ago, so I have only re-invented it.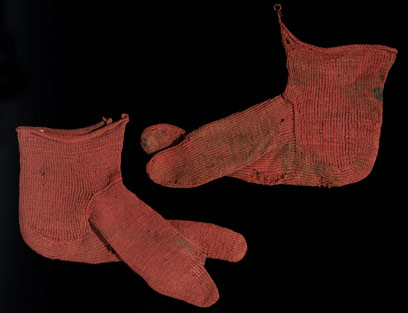 Someone somewhere, without being taught had to have invented knitting in the first
place! Then historically other techniques, would have got buried, and through
the process of human beings having the same approaches, would have re-invented
this but in exactly the same method.
I wonder what would happen if there was an apocalypse ony a few of us survived,
collectively as a race we know how to purify water, make our own clothes, build
our own houses and make electricity but individually we don't, but we would
reinvent these things in time. So I feel the same for people knitting in a
vacuum before the internet, we invented stuff for ourselves that perhaps other
people were doing simultaneously.
A good example of this, is the magic loop method of knitting on a circular, or
the 2 circular method. I worked this out on my own with no instruction not even
knowing such a method existed before the internet was available and I owned only
2 knitting pamphlets that were my grannies and post war and basic.


Necessity is
the mother of invention. I thought I was a clever cloggs for a while, then
discovered other people had been doing exactly the same simultaneously without
any connection between us.
When I discovered these ways of knitting in the round elsewhere, there were modifications that made it a bit easier than my own method, so sharing it had improved it as far as those inventors were concerned.

I did a similar things with knitting some socks, not
having done any before as a
teenager, I just sort of invented my own shaping and
knitted them on 2 needles, and they worked and had no sewing necessary. But, now
I can find those similar methods anywhere and it is not original.

When I learned in theory, about doing short rows with wraps it was just words in my ears and quite stupidly I sat down and knitted my first pair of socks with short row heels, without reading any instructions. Then, when I published a sock pattern, I had to make sure that what I did was standard so tried out other people's methods, and I didn't have as much success as with my own, but as I didn't write it down, lost the knack of what I did before I allowed other methods to muddy my waters!
Picture Sources
1. and 4.
Body Technology Interfaces Knitting
2.
Freddie Robins
3. Early Egyptian Knitted Sock
4.
Chicken Viking Hat